The loom, sustainable entrepreneurship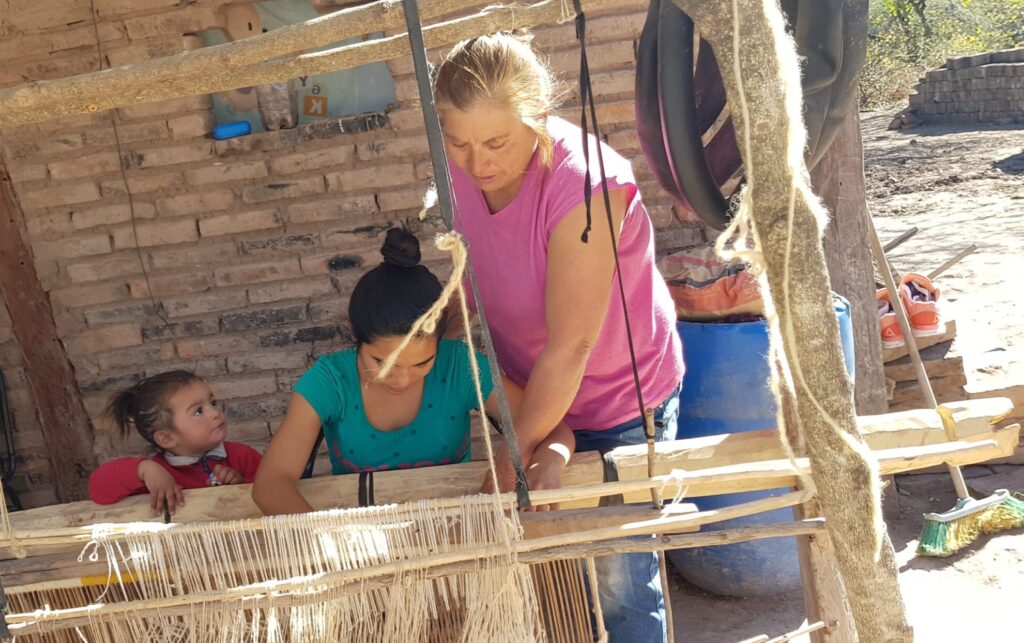 The beginnings of SachaMama
One day, in the midst of the 2001 Argentina`s economic crisis, a handful of women from Santiago met in the Parish of San José de las Petacas.

They were Teleras, loom weavers of blankets, ponchos, table runners, ruanas and "frezadones" on Criollo looms. Encouraged by Father Juan Carlos Constable S.J. and by Mary Quadri, pioneers in the region, they decided to group together. They called themselves SachaMama, which in Quechua means Mother of the Mount.

At that time, conditions were not given, for weaving on a loom to be a sustainable undertaking.

The influence of trends
Over fourteen years have passed, for the emergence of trends such as, return to nature, conscious consumption and care for the environment, B companies and fair trade, that allowed loom weaving to become a way of life for these brave women and their families. Everything that is valued today, they have been doing by tradition since they were born. Many know how to prepare wool from shearing, and all know how to spin it with a distaff or spindle and dye it with natural dyes obtained from plants and various types of barks of the mount.

Of those 12 or 13 women who started the group, some there are no longer there. La Rubia, Santos and Irma's mother, passed away in 2017, Too many teleritas from that time were taught to weave by la Rubia! Despite the difficulties and the precariousness of life in the mount, the teleras never stopped teaching their daughters, nieces and granddaughters the art of the loom and the secrets hidden in the warp and the weft. It was thanks to this perseverance that, in 2015, with the help of Father Marcos Alemán S. J. and Brother Rodrigo Castells S.J. , they were able to go one step further to encourage and empower them. Thus, they became twenty and with the help of a group of volunteers from Buenos Aires, they found the missing link to give them visibility and make their beautiful pieces of art known beyond Santiago del Estero.

The future
Today, leaded by Father Víctor Pacharoni, the Teleras number more than 50 divided into two groups. The implementation of a weaving school is already being considered so it develops to a sustainable enterprise. Many of the Teleras of the group are going to be the teachers of this new learning center, because they all know that there is a lot of market for their products and they are not afraid to share their knowledge. They know that the loom gives life not only to their souls, but also represents a genuine family sustenance for their children and the community to which they belong.